Wolcott Woods, Milton, Massachusetts
Get a bird's-eye view of the community with our interactive 3D map

Milton, MA is one of the top ten small towns in America
The 47 acres that make up Wolcott Woods, a new 55+ community in Milton, are the ultimate escape into the country. Neighboring the Blue Hills Reservation, Wolcott Woods offers the best of both worlds: a serene, natural setting and a convenient location.
To keep a sense of seclusion and connection to nature, 60% of the land at Wolcott Woods will remain open space. And while you may cherish a place to embrace nature, peace, and quiet, access to other adventures is also essential. From Wolcott Woods, head down to Cape Cod, take a quick 30-minute drive into Boston and Logan International Airport, or catch the train to New York and DC from the Route 128/University Park Station.
This Milton setting is one of Wolcott Woods' greatest amenities, harkening back to 19th century summer home estate living, when families would head to this Boston suburb to get back into nature.
"I am so glad that you are at last settled at dear old Blue Hill, it does me good to think of you as there, and the vision of cool breezes, fresh green Trees, and Orchards in full bloom."
Lieutenant Huntington F. Wolcott – May 7, 1865, Union Army – 2nd Massachusetts Cavalry (Taken from "Blue Hill: The Wolcott Family Home 1851-2018" by Corey O'Hayer 9/17/18)
Milton one of three towns in Massachusetts to make the top 10 in WalletHub's list of Best Small Cities to Live in in the United States.
Milton, home of the Blue Hills Reservation and the new 55+ community, Wolcott Woods, was ranked the 6th best small city out of the 1,200 cities that WalletHub reviewed. The ranking compared cities with a population of 25,000-100,000 citizens on 43 categories including affordability, education, quality of life, and safety. As of 2020, Milton has a population of 27,568. According to WalletHub, Milton has the third lowest crime rate on the list. For this, and many more reasons, Milton is a great place to call home.
A Great Place to Call Home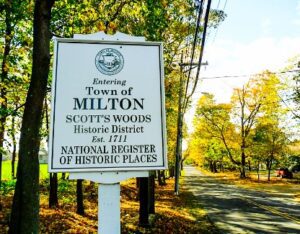 Well-Respected Schools
Milton offers a top-rated public school system that garnered an "A+" rating from Niche. Students score consistently higher in math and reading according to test scores. There are six schools in the Milton system ranging from elementary to high school. Milton Academy is a prestigious private school, educating students from Kindergarten through 12th grade. Boarding is available for grades 9-12. Curry College, located right in Milton, is a private institution founded in 1879 offering both undergraduate and graduate degree programs. It was originally located in downtown Boston and moved to its current 131-acre campus in 1952.
Fabulous Restaurants
Milton serves up a wide variety of dining options. You can find almost any cuisine you are looking for, from classic American fare and upscale Italian to great seafood and sushi. At Steel and Rye you can experience locally-sourced New American dishes with hand-crafted cocktails. Or, you can head to Abby Park, a trendy New American bistro known for its stylish decor and creative dishes. Start your mornings off at Newcomb Farms, a well-known favorite for breakfast in Milton. In the evenings head to Novara, a casually sophisticated Italian restaurant located on the site of the historic Milton cinema. If you are cooking at home stop into Fruit Center Marketplace, a local favorite one-stop-shop for gourmet groceries, flowers, and beer and wine that also offers great food to go from sandwiches to sushi. Among these and many more is The Plate, a favorite stop with locations in Lower Mills and above the Milton Marketplace with a seasonal menu, a homemade bakery and restaurant.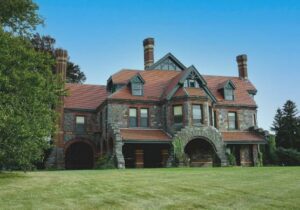 Milton Area - Something to do for Everyone
Whether you're looking for something to do inside or out, the town of Milton has activities for everyone – from educational museums to hiking the Blue Hills and everything in between. If you prefer learning about the area's rich history and exploring collections of art, be sure to visit the Forbes House Museum, a National Historic Landmark located atop Milton Hill overlooking Boston's skyline, where you can uncover the treasures of four generations of the Captain Robert Bennet Forbes family. Another great stop for the history buff is the Eustis Estate Museum, a beautiful historic mansion with four art galleries and eighty acres of property to explore just down the road from Wolcott Woods.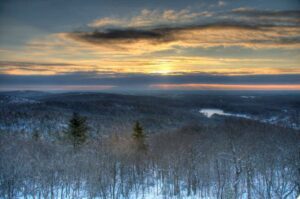 A Nature Lover's Paradise
If nature is more your thing, then Milton is still the place for you – with a few different parks for you to explore. Blue Hills Reservation offers over 125 miles of trails to hikers, bikers, and cross-county skiers with views of the Boston skyline from numerous outlooks at the summit. Within the Blue Hills is Houghton's Pond for picnics, swimming, and fishing. Also in town is the Neponset River Reservation, which runs from Milton to Boston and offers walking/hiking, biking, boating and fishing. Golfers can enjoy playing a round at the Wollaston Golf Club in Milton, as well as the nearby Granite Links Golf Club and Blue Hills Country Club.

"Wolcott Woods is the best of both worlds – the feel of living in the beauty of colonial Massachusetts while being 15 minutes from everything the city offers."
— Anne Marie
"Transitioning from a little farmhouse in rural New Jersey to a retirement community so close to Boston was a dramatic lifestyle change, but the Northland team helped to make our transition seamless. Beyond building beautiful, well-crafted, thoughtfully designed homes, Northland has gone a step further to develop whole communities."
—  Pam
"Northland Residential remains one of the best developers in the northeast. Their sensitivity to land planning and design, respect for community dynamics, skill in obtaining development approvals, and quality of their homes is unmatched. It is a pleasure to work with Northland, and an honor to represent them in the marketing and sale of their projects."
— David

Latest news about Wolcott Woods and its community