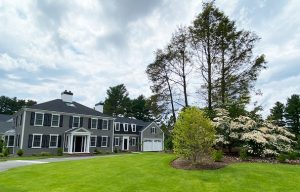 Wolcott Woods is distinguished not only by its magnificent setting, but also its roots in Massachusetts' history. In 1851, prominent Beacon Hill merchant Joshua Harrington Wolcott bought the land and subsequently built Blue Hill, a summer residence for his family. Later known as the Wolcott Mansion, Roger Wolcott, the former Governor of the Commonwealth, was raised here and generations of the family lived on the property until the late 1980's. It is one of the three existing homes on the 47-acre site, designated to be "condominiumized" and incorporated into the fabric of this new 55+ community. The developer, Northland Residential, considered this decision to be a rare opportunity to pay homage to the estate's history in a community designed for today's lifestyle. Accordingly, Northland's team accepted the challenge and identified Devens House as the first of the three to be remodeled. The renovation plans were finalized the Summer of 2020 and the company's Design Manager was tasked with identifying a program of contemporary features and finish options that reflected the timelessness of an era gone by with an eye towards leading-edge specifications.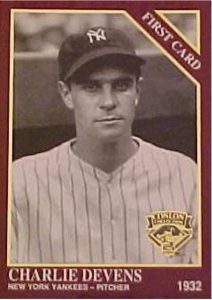 The history of Devens House and its existing conditions were thoroughly documented prior to commencing the project. A step back in time, Devens, was originally built in 1940 by Cornelia Wolcott Drury, the only daughter of Governor Wolcott. The home was designed and built for Cornelia and her husband Rev. Drury to retire to, but the Reverend passed away just before its completion. Cornelia did move into the home and lived there for many years.
The name, Devens House, was chosen to honor Charles "Charlie" Devens, who married Edith Wolcott, daughter of Cornelia Wolcott Drury. Devens, a graduate of Harvard University, was a pitcher for the New York Yankees until he retired just before their marriage. As Edith's father did not want to have a baseball player for a son-in-law, Charlie was strongly encouraged to accept a position as a teller at a reputable bank, State Street Trust Company, where he eventually became Vice President. He then went on to assume the role of President of Incorporated Investors. Charlie was also the nephew of Charles Devens Jr., former United States Attorney General for whom Fort Devens is named. Devens' son, William L. Devens followed in his father's athletic footsteps. Following his education at Milton Academy, William also attended Harvard University, his father's alma mater, and played baseball, football, and hockey.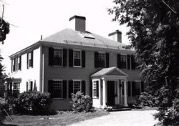 The Devens House was designed by architect John Bradley after colonial prototypes. The front façade is symmetrically organized around a center entrance. This entrance is emphasized by a gabled roof entrance porch decorated with dentil molding. This style house was popular in Milton during the second quarter of the 20th century and indeed still is today.
Even stripped to its bones, Devens offered insight into the comfortable yet sophisticated lifestyle that this exceptional setting provided its residents over the years. Its formal vestibule, circular staircase, ocular window and fireplaced study evoked the charm of a traditional English Country House, a design concept reflected in the choice of new features and finishes.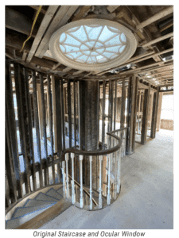 The interior transformation began with taking it back to the original framework and included installing new HVAC systems, updating five fireplaces, and replacing windows with historic replicas. Once the plastering, trim work and painting were completed, the brass sconces that once graced the dining room fireplace were re-wired and re-hung over the living room mantle and the new hardwood floors were stained in a rich chestnut.
With the transformation nearly complete, historic Devens House, is well suited for its new role as a free- standing condominium in Wolcott Woods.